Transforming distressed agricultural lands into productive sources of protein and renewable bioenergy through pongamia
With offices in Hawai'i, California, and Florida, TerViva™ grows a hardy orchard crop called pongamia. We restore productivity to idle agricultural land while generating clean energy, supporting local food production, and restoring environmental health.
Pongamia is a non-GMO tree crop that can be grown with little or no irrigation, and produces oilseeds that are processed into oil for biofuel, plant protein for animal feed or biogas, and biomass for baseload electricity generation.
Our Mission: Plant millions of trees to feed billions of people
Arable land base continues to shrink every year at an alarming rate while demand for food & fuel soars. The US has lost 40 million acres of arable land in the past 40 years.


Florida
Citrus acreage is disappearing at an alarming rate due to disease. Over 500,000 acres lost (50% loss in 10 years).
Hawaii
Sugarcane abandoned due to cost of production and competition. 200,000 acres lost (100% loss in 20+ years).
Our Solution: We grow a hardy, high yielding oilseed tree crop called pongamia
Working with TerViva™
At TerViva™, we develop high-yielding cultivars of pongamia and plant them with interested growers and land owners. Pongamia easily "drops in" to their existing operations, utilizing the same field setups and infrastructure. TerViva™ then processes the seed pod harvest into vegetable oil and protein seed cake, which is sold to third parties for usage in fuels, chemicals and animal feed.
Current Projects
TerViva™ is currently establishing pilot projects and commercial size acreage in Hawaii and Florida -- geographies where the need for a new crop and the proper climate for pongamia intersect. Please check our News page for the latest information on announced projects.
TerViva™ is a portoflio company of several high profile investors, including The Yield Lab, an ag-tech business accelerator based in St. Louis and the Elemental Excelerator, a business incubator working with mission driven start ups focusing on improving infrastructure, building community and sustainability. The Elemental Excelerator is supported by the Department of Energy, Department of the Navy, PICHTR (Pacific International Center for High Technology Research), and the Emerson Collective.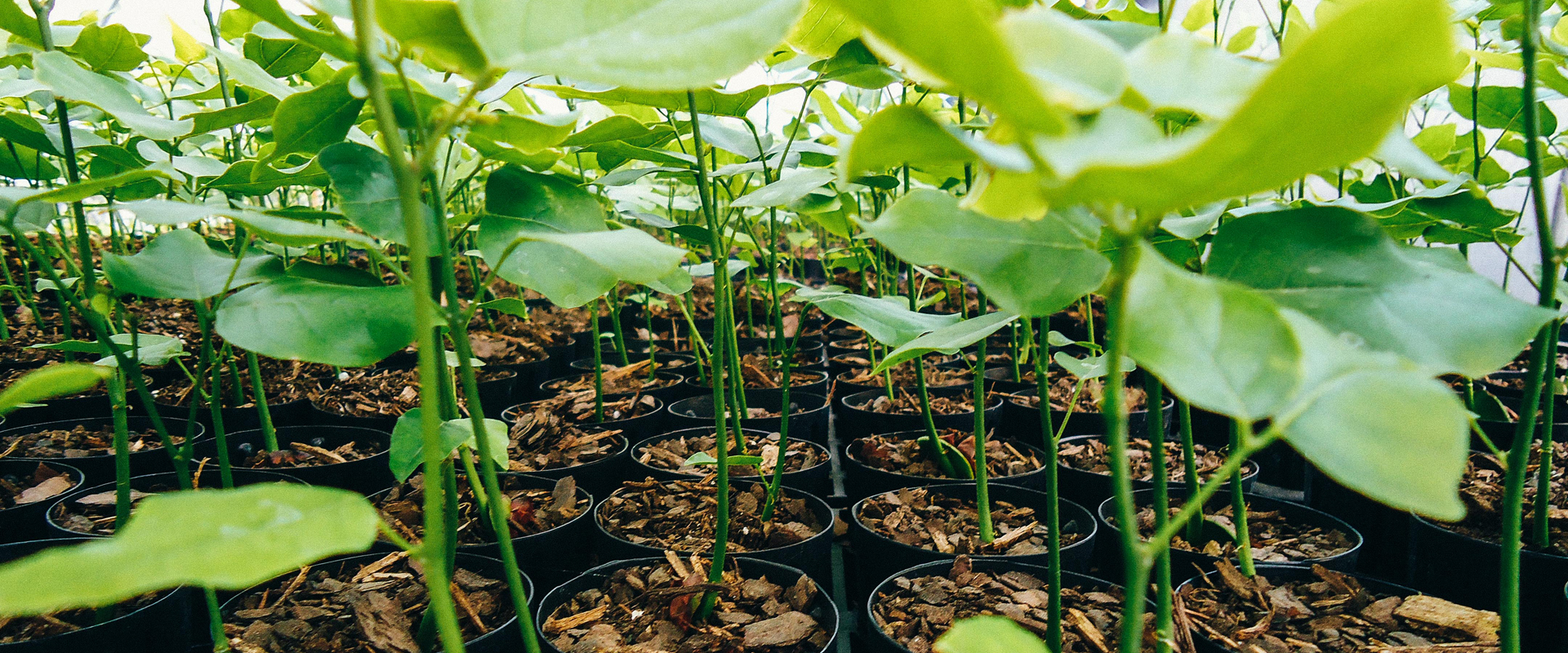 Our Trees
Native to India and Australia, pongamia is a long-living tree that produces an annual harvest of seeds that are similar to soybeans. On a per-acre basis, pongamia produces ten times the amount of oil than a soybean with a fraction of the inputs (water, fertilizer, pesticides, etc.) and is thus cheaper to maintain while being much more sustainable and environmentally friendly.
TerViva™ has compiled an exclusive library of high-yielding, patentable pongamia genetics from around the world and has developed propagation techniques for scalable, consistent results. The core of the IP platform is the elite pongamia genetics, which are iteratively advanced through a number of exclusive partnerships. TerViva™ is also working on a molecular marker program to identify traits for breeding, such as oil yield and salt tolerance.
Questions about Pongamia? Check out our FAQ or send us a question on our Contact page.
HIGH YIELDING TREES
Up to 100kgs of seed pods per tree per year

400 gallons of oil per acre

10x oil production of soy

Potential to surpass the production of palm, with significantly lower environmental impacts
HARDY & VIGOROUS GROWTH
Extensive root system adapted to long dry season

Demonstrated tolerance of saline soils

Insecticidal and nematocidal properties reducing need for pesticides

Nitrogen-fixing bacteria in roots reduce need for fertilizer
HIGH QUALITY
SEED
Seeds contain 40% oil, high in oleic acid

Seed cake high in protein

Variety of downstream applications; biodiesel, crop sprays, lubricants, biopesticides, animal feeds
Downstream Products
We use pongamia to "grow oil", combining agriculture with chemistry to produce clean fuels and green chemicals -- while at the same time restoring underproductive land and creating jobs in rural communities. Pongamia oil contains long-chain fatty acids that are well-suited for conversion into biodiesel, renewable diesel, high-performance surfactants, and lubricants. Once removed of oil, the residual pongamia seed cake is high in both nitrogen and protein, and has proven value as a fertilizer and animal feed supplement.
Technology Platform
We offer landowners and growers a scalable, low-cost, turnkey platform:
High-yielding, proprietary pongamia varieties

Intellectual property on tree cultivation and processing

Automated harvesting

Use of land in low rainfall areas with limited irrigation

Use of land in areas with degraded or compromised soils

Minimal use of expensive fertilizers and pesticides

Proprietary relationship with market leaders in biofuels, biochemicals, and animal feed
Plant Genetics
The heart of any crop development program is germplasm selection. Together with our partners, we have evaluated pongamia varieties in their native environments for over a decade, carefully cataloguing various important agronomic traits such as growth, shape, disease and pest resistance, flowering, seed yield, and seed oil content. The best pongamia varieties were then subjected to clonal propagation, in order to deploy "true to type" varieties in fields. Through a 2011 National Science Foundation grant, we also began to develop molecular markers for pongamia breeding in collaboration with UC Davis and Texas A&M University.